Where Actuarial Research Happens
The Janet & Mark L. Goldenson Center for Actuarial Research at the University of Connecticut (UConn) is a leading  think-tank for applied actuarial research. Unlike other renowned academic research centers, the Goldenson Center's  underlying research philosophy is driven by three key objectives:
Research ideas are motivated by industry.
Research projects are worked on by a team of practising actuaries in industry and students and faculty members at UConn.
Completed research projects can be directly applied to meet the needs of industry.
The Goldenson Center is uniquely positioned to serve as a leading applied actuarial research center for the following reasons:
Annual source of research funding
The generous 1 million dollar gift donated by the Goldenson family provides a steady source of funding for students and faculty members working on projects. For companies employing the services of the Goldenson Center, they benefit from having access to high quality academic resources at  cost-effective rates because of the subsidized funding by the Center.
The insurance capital of the world
UConn is located at the heart of the insurance industry in the US. Between Hartford, New York City and Boston, all within commuting distance from UConn, all the major insurance companies, consulting firms and insurance service providers are located.  Having a cutting-edge applied actuarial research center right in their midst is a tremendous benefit for the insurance industry in the region and this ensures continuing support for the Goldenson Center and its activities by industry.
Goldenson Center Advisory Board
The Advisory Board of the Goldenson Center comprises of key industry leaders and faculty representatives and staff members at UConn. The Advisory Board meets for half a day annually to listen to student presentations of completed research projects and discuss important research topics for the coming year. Between Advisory Board meetings, a key function of the Director of the Goldenson Center is to follow up with industry representatives in formulating and implementing recommended  projects.
Renowned faculty & students
The Goldenson Center supports UConn's actuarial science program which is one of the established Centers of Actuarial Excellence programs by the Society of Actuaries. The program boasts a distinguished faculty of permanent and adjunct professors, many of whom come with strong industry experience. The program offers bachelors, masters and doctoral degrees specializing in actuarial science as well as a masters program in financial mathematics. The dynamic faculty and student body contribute to the quality and creativity of the applied actuarial research work undertaken by the Goldenson Center.
An experiential educational experience
Goldenson Center projects provide valuable experiential education for students and faculty. Unlike summer internships, Goldenson Center projects are continuous throughout the year. Students work on projects from start to finish, work directly with the client and put together and present the final report to clients. Participation in Goldenson Center projects tremendously increases the marketability of students and generally guarantees either an internship or a permanent position in industry upon graduation
Our Leadership
As the Director of the Goldenson Center and UConn Professor, Dr. Jay Vadiveloo works on applied actuarial research projects using teams ofacademicians, students and industry professionals. Dr. Vadiveloo has a doctorate in statistics from the University of California, Berkeley, is a Fellow of the Society of Actuaries, a Member of the American Academy of Actuaries, and a Chartered Financial Analyst. He has over 25 years of experience working in senior level management in the life insurance industry and more than 20 years of experience with UConn's actuarial science program.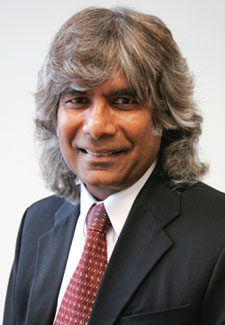 In addition to publishing articles in the actuarial literature and speaking at actuarial conferences, Dr. Vadiveloo has patented a new algorithm (Replicated Stratified Sampling or RSS) for risk modeling that exponentially reduces processing time at a pre-determined accuracy level for any complex actuarial modeling. Dr. Vadiveloo has a provisional patent on a claims tracking and monitoring process which allows a company to easily detect significant deviations in claims experience and recognize whether it is only a one-time occurrence or shows a historical trend as well. Dr. Vadiveloo is also editor and co-author of a new text by the Society of Actuaries on Enterprise Risk Management for Small and Medium-Sized Enterprises.